The antimalarial agent's chloroquine and hydroxychloroquine have been used widely to treat rheumatoid arthritis and systematic lupus erythematosus. Hydroxychloroquine mechanism of action is not entirely understood. Despite their varying therapeutic dosage and toxicity, both pharmaceutical agents have similar clinical uses and adverse effects. One of the most severe side effects is retinal toxicity, referred to as chloroquine retinopathy, which must be monitored regularly.
Chloroquine is a prescription drug used to prevent and treat malaria and amebiasis, while hydroxychloroquine, a less toxic metabolite of chloroquine, is an effective remedy for rheumatoid diseases rheumatoid arthritis and juvenile idiopathic arthritis.
In addition to having direct immunomodulatory effects, the drugs chloroquine and hydroxychloroquine can reduce rates of atherosclerosis, improve hyperglycemia, and protect against infections in patients with rheumatoid inflammatory disorders. The underlying model of action of these clinical consequences is still not known.
Chloroquine
Chloroquine is a prescription treatment for malaria caused by mosquito bites. It belongs to a class of drugs known as antimalarials. The mechanism of action of chloroquine is not known, but it is found as a good alternate to kill parasites in the body. The Unites states Centers for Disease Control provide updated guidelines for preventing and treating malaria in different parts of the world. Therefore, it is important to discuss the most recent information with your doctors. Chloroquine is also effective in treating infections caused by a different type of parasite. Speak to your doctor about the risks and benefits of using the medicine.
Malaria is a serious infection that is passed on to humans by infected mosquitoes. Chloroquine should be used under medical supervision to treat rheumatoid arthritis and lupus erythematosus, along with other treatments. Both these diseases are categorized under drug class autoimmune diseases. In such cases, your immune system mistakenly attacks itself. This ultimately leads to pain and damage to parts of your body. Some medicinal products are not suitable for people with certain medical conditions, and some medicines should only be used if extra care is taken. Therefore, before you start taking chloroquine, it is important that your doctor should be aware of the following conditions if you have/are:
heart diseases, such as an irregular heartbeat or other heart complication

a skin condition called psoriasis

ever had epilepsy

problems associated with the stomach and intestines

muscle weakness called myasthenia gravis

kidney problems or any problems with the way your liver works

pregnant or breastfeeding

a blood disorder called porphyria or glucose-6 phosphate dehydrogenase deficiency

taking other drugs. These may include any medications that you purchase with prescription as well as herbal medicines.

ever had an allergic reaction to chloroquine
Your doctor may ask you to take the first dose of chloroquine a week before entering an area where malaria occurs. This way, there will be good medicine in your bloodstream to give you the required protection. It is important to take this antimalarial drug throughout your stay and for a further four weeks after you have left the area. Take the tablets exactly as your doctor has prescribed to you. In general, the dose for an adult is two tablets once a week on the same day of the week. Discuss with your doctor if the antimalarial treatment is for the child as their dose depends on age and weight. You should complete the full course of medication. This means you should be taking chloroquine for four weeks after your visit is over. If used under proper medical guidance, chloroquine will help reduce the risk of getting malaria, but it is also important to take precautions. Use an effective mosquito repellent spray on your clothing. Cover your bear areas with clothing. This is especially important when you are outside after sunset.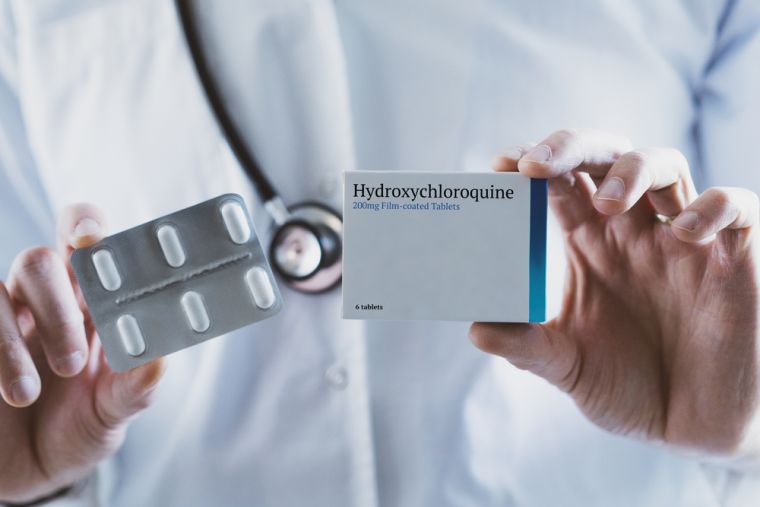 Hydroxychloroquine
Hydroxychloroquine is a medication indicated for the treatment of rheumatoid arthritis, lupus erythematosus and malaria. Health care experts are not sure about the mechanism of action of hydroxychloroquine in rheumatoid arthritis. It is believed that the drug changes how your immune cells send signals. According to experts, the drug also turns off certain processes that cause inflammation. You should take this medication with a glass of water. Follow the directions given on your prescription. Swallow the pill with water and take it after consuming food. Do not consume antacids within four hours of taking the drug. The use of this drug is contraindicated in the presence of retinal or visual field changes and patients with hypersensitivity to Hydroxychloroquine.
You might not have any serious problems if you take Hydroxychloroquine, but it could cause unwanted symptoms like any other medication. Most of them are mild and might get better with time.  The most common one includes diarrhoea, nausea, belly pain, and throwing up. You could get low blood sugar if your diabetes isn't under control. In this case, doctors are usually advised to take Hydroxychloroquine with food. Other symptoms you can get include muscle weakness, hair changes, darkening skin, itching, mood problems, and ringing in your ears.
Conclusion

Chloroquine and Hydroxychloroquine are two drugs that have been used for decades to treat malaria and autoimmune disorders like rheumatoid arthritis and lupus. Hydroxychloroquine is a disease-modifying anti-rheumatoid drug that can cause a significant reduction in pain and swelling of arthritis and reduce the risk of long-term disability. The mechanism of action of hydroxychloroquine in rheumatoid arthritis is still not known. It is believed that the drug interferes with the communication of cells in the immune system, whereas chloroquine works by destroying parasites in the body.