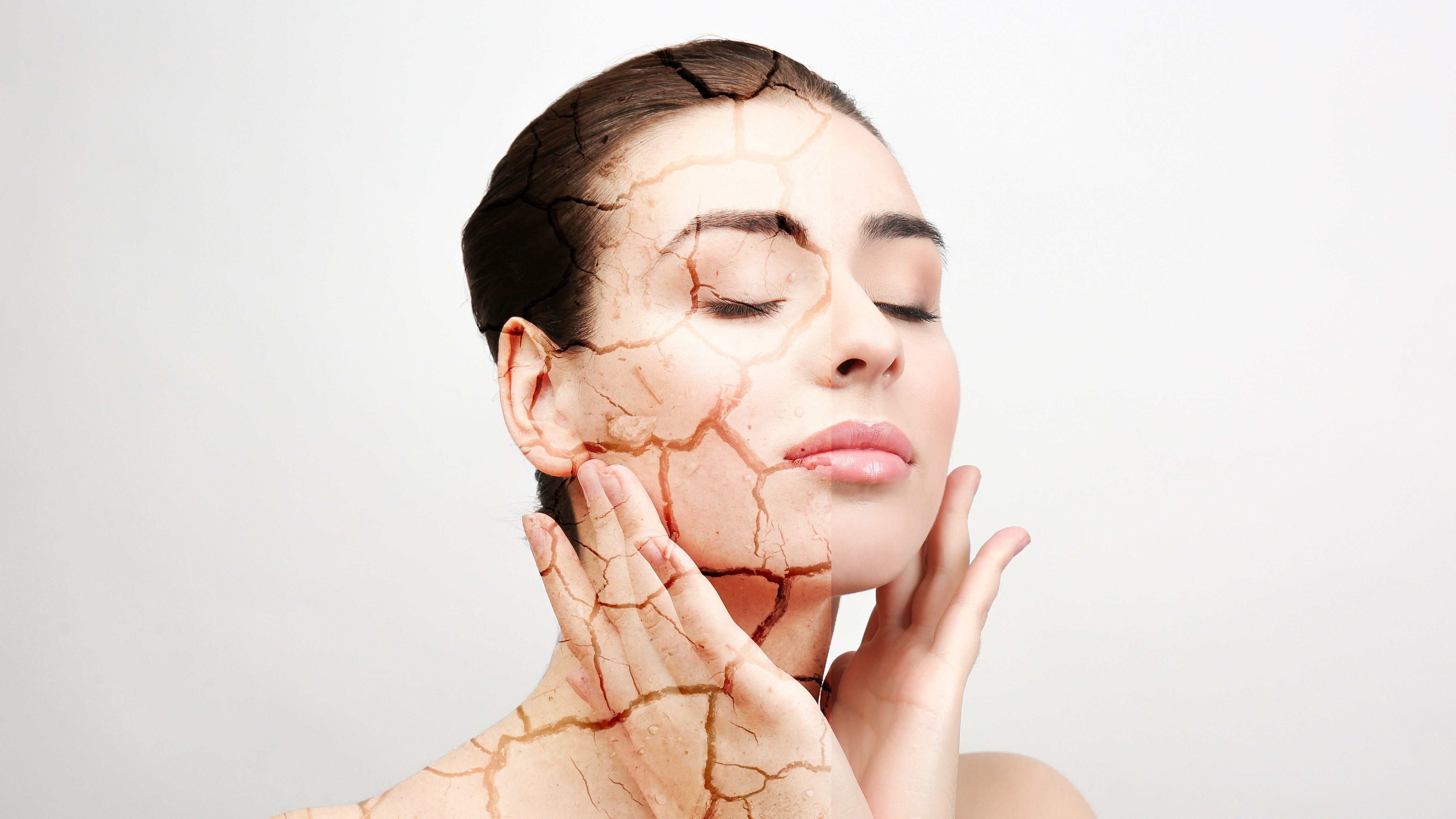 How to treat dry skin on the face
?
This is the most commonly discussed question amongst people who struggle with dry skin and look for options to get rid of it. For most people, it becomes hard to choose/select the right products or remedies to treat their dry skin issues. Various factors can contribute to making your skin dry. Adding the right moisturizer to your beauty routine can help your skin from getting dry. Beauty products free from harsh chemicals (such as sulfates, mineral oils, phthalates, parabens, petrochemicals, synthetic colour, and strong fragrance) could be a safer choice in most cases. Coconut, avocado, argan, and olive oil work best when it comes to ingredients for dry skin; the powerful antioxidants and hyaluronic acid pull the moisture for the skin.
Dry skincare needs the right approach to achieve the desired results. Consult a doctor if you have any specific skin issues like acne or blemishes. The remedy and treatment vary according to skin problems; this page will give you more insight and tips for treating dry skin problems.
Dry Skin Complications:
Most people experience dry skin in the winter season, but some experience this skin type throughout the year. The symptoms of dry skin vary according to age, your exposure to outdoor, heath, and weather/environment condition. The problems that contribute to dry skin are:
Skin tightness

Skin roughness

Itchiness

Skin flakiness, peeling or scaling

Deep skin cracks or fine lines

More visible fine lines and wrinkles 
People often visit a dermatologist for their dry skin treatment to avoid skin complications; however, these conditions are usually harmless when not cared for properly; it can lead to eczema and certain skin allergies and infections.
Ways to Soothe your Dry Skin:
In many cases, dry skin problems resolve with drinking plenty of water and using a moisturizer daily. Dermatologists recommend applying a cream or ointment throughout the day to relieve dry, scaly skin. Creams are considered more effective than lotions. One should choose one with ingredients such as glycerin, jojoba oil, hyaluronic acid, lanolin, mineral oil, lactic acid, petrolatum, dimethicone, and shea butter.
A dermatologist will usually prescribe medicinal treatment for people with skin conditions such as eczema. Sometimes, an underlying disorder such as anorexia or diabetes may contribute to dry skin problems; in such cases, dermatologists will prescribe treatments to get the condition under control. 
If you are following the same skincare routine for all twelve months, then you may be not giving the essential dry skincare to your skin that it needs. Dry air can cause fine lines and wrinkles more noticeable, ultimately leads to dry, itchy skin that can flake or crack. To heal or prevent dry skin conditions, dermatologists recommend the following:
Bathe daily:

A 5 to 10 minutes warm bath adds moisture to the skin. However, staying in the bath or hotter showers removes away natural protective oils, thus removes moisture.  

Close the bathroom door:

When you are taking a shower, keeps the door shut. This helps to keep the much-needed humidity in the room. 

Use a mild soap/cleanser:

Bars and face washes containing alcohol tend to strip natural oils from the skin, which dries out the skin. Use dry

skincare products

that are gentle to your skin and are fragrance-free. 

Gently pat the skin dry:

Rubbing hard also removes moisture and irritates sensitive/ dry skin. Used a soft cloth to clean your skin. Consider patting instead of rubbing the skin after washing. 

A moisturizer can do the trick

: Be sure to apply moisturizer for dry skin immediately after getting out of the shower. A Moisturizer work is to trap existing water in the skin and preventing the water from evaporating. 

Moisturize when you need it:

If you think there is a need to apply a moisturizer again, don't hesitate to do so. If the skin is noticeably dry ad scaly, it is important to moisturize it frequently throughout the day and allow the skin to heal. This will help prevent the recurrence of dry skin. 

Be careful when choosing a moisturizer:

If you have severely dry skin

,

pick a cream-based formulation or an ointment instead of lotions. You should be careful while choosing a moisturizer for dry skin; look for a product that contains; lactic acid or urea as these are extremely effective in alleviating even severe dryness. You can select a one with hyaluronic acid, which helps the skin to hold water. Glycerin is a moisturizer help draw water to the skin and keep it there. Petrolatum, also known as petroleum jelly, also effectively taps water in the skin.  

Do not ignore your hands:

Frequent washing can dries out the skin. Applying a good quality hand cream after washing helps hands retain much-needed moisture. Dab petroleum jelly on the hands before bed can provide needed moisture to your skin. 

 Wear a lip balm:

If your lips are extremely dry, apply petroleum jelly or a thick balm before bed. Continuous use of lip balm can keep lips soft and supple. Dermatologists recommend a lip balm that has an SPF of at least 30.

Be gentle with your skin:

Some skincare products, such as soaps, deodorants, etc., can be too harsh on the skin. Dermatologists recommend using fragrance-free products. 

Following these tips can bring relief to your dry, chapped, and scaly skin. You will notice your skin start to feel better quickly. Extreme dry skin may require prescription treatment. A dermatologist can examine your skin to recommend the best

dry skin treatment

you may need.