Lessen fine-lines, wrinkles, signs of aging from environment and stress. These anti-aging skincare tips will give benefits of having a younger-looking skin.
Irrespective of how many efforts you have put in keeping your skin healthy and supple, the subtle natural changes of natural aging, like uneven skin tone, loss of firmness, and wrinkles begin to show up in your 50s. However, you don't need to worry even if you have not been as committed to caring for your complexion. Now is the perfect time to give your skin a boost with efficient anti-aging skincare products that will help you look as young as you feel.
5 Ways to Take Care of Your Skin in Your 50s
1. Do not forget to sun-proof your skin- Use sunscreen with minimum SPF15. Apply it at least 30 minutes before you leave for outdoors.
2. Moisturize your skin with a Retinoid-Based Cream- Retinoids increase the rate of surface cell turnover and help revealing newer skin which helps in reducing the appearance of wrinkles, fine lines, and dark spots. Apply a moisturiser in the morning and evening directly after cleansing your skin. It's beneficial to have other important ingredients such as antioxidants, including vitamin C or E, in your moisturizer. These ingredients help prevent surface damage caused by free radicals.
3. Rejuvenate with a Night Cream- Moisturize your skin at night and wake up with a softer, smoother skin in the morning. While picking a night cream for yourself make sure that it contains ingredients like glycerin and Niacinamide. Glycerin hydrates your skin, while Niacinamide strengthens your skin's moisture barrier.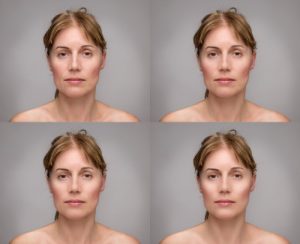 4. Go Beyond Your Face- Be attentive to your jawline, neck and chest. These areas require as much care as your face does. The cleansing products and ingredient-rich moisturizing creams that you use on your face do well for these areas too.
5. Say Goodbye to Facial Hair- Some women experience an increase in growth of facial hair after menopause. If you are one of them, get rid of it with a gentle depilatory meant especially for delicate facial skin. Follow a healthy skincare regimen throughout your 50s so as to lessen the signs of aging and to keep up your best beautiful skin for decades to come.
Also Read: Tender Love and Care for Dry Skin
Additionally, you can put the following foods on your plate to bring on the beauty from inside:
Colorful fruits and vegetables-
Colorful vegetables and fruits, such as deep red tomatoes, leafy greens, blueberries, and carrots are a storehouse of antioxidants which help prevent damage to healthy cells.
Three particular antioxidants –
Vitamin C, zinc, and beta-carotene can be found in dark green, leafy vegetables such as spinach, kale, collard and mustard greens.
Antioxidants like vitamin C keep your skin younger-
Looking and healthy. Resveratrol which is a powerful antioxidant found in grapes and red wine, may help lower your risk of getting heart disease, cancer and premature aging.
Whole grains-
Eating whole grains rich in fiber such as barley, oats, quinoa, brown rice and wheat help lower your risk of developing type 2 diabetes. A healthy diet that contains whole grains also keeps blood vessels in peak condition.
Fish-
Omega-3 fatty acids in fatty fish such as salmon, lake trout or tuna offer many anti-aging benefits. They help protect your heart, lower your odds of having a stroke and may even help guard against Alzheimer's disease. If you don't eat fish, you can take fish oil supplements.
Dairy-
The calcium and fortified vitamin D in dairy foods are crucial to strong bones. They help prevent osteoporosis, for instance. Include 3 cups of low-fat milk, yogurt or other dairy products a day.
Nuts-
The fats in nuts are among the healthiest you can find. If you avoid nuts because they're high in fat, think again.
Beans and lentils-
These foods deliver loads of fiber and plant-based protein in your body. Also, they're an age-protecting skincare alternative to red meat. Beans and lentils are inexpensive and easy to add to casseroles, soups, and side dishes.
Also Read: Healthy Diet for Glowing Skin
Conclusion:
It's never too late to love yourself. These age defying skincare tips will give your skin the best skin treatment for it to look young and beautiful for years to come.