Our cosmetic industry has produced countless boosting and accelerating lash enhancers, all promising Bambi-style lashes in a few weeks of use, but nothing can replace the effect of Careprost. Read on to discover how to get longer eyelashes naturally with Careprost.
The Trick for Growing Longer Eyelashes
Everyone has a wish to have beautiful eyelashes for as long as possible. Fake eyelashes and mascara will give you the temporary look. It is not necessarily having a big budget for getting the voluminous eyelashes. Now everyone can get the permanent and natural eyelashes by the Careprost eye drops. The ophthalmic preparation was specially made to treat patients with glaucoma. The eye care medication was originally made to reduce the elevated pressure in the eye, preventing gradual loss of sight.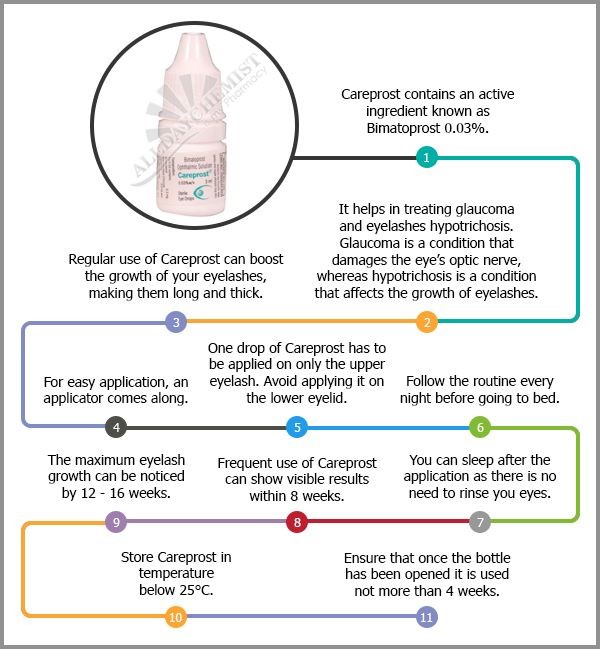 Careprost has FDA sanctioned ingredient Bimatoprost which effectively increases your inadequate lashes and enhances your look that gives a positive attitude to your personality. People with good looks have greater opportunities when it comes to both professional and personal platform. That's why long and fuller looking eyelashes are the thing we all want. To get the looks, we accept various types of cosmetic products. But, you have not pleased with the look, you have an alternative to choose Careprost for natural eyelash growth.
Super Solution for Lash Acceleration
The presence of Bimatoprost helps you to get longer, darker, and thicker eyelashes. Prior to use, you have to remove your contact lenses because the eyelash enhancer has preservatives that may absorb the contact lenses and lighten the vision. Remove makeup and wash your face thoroughly. Take one drop of solution on the applicator brush. Apply to your upper lash line; make sure you spread the drop evenly on the upper eyelid. After applying the eye preparation, wipe out the excess product with a clean tissue. Use the product once a day before going o bed. You will get the desired results after continuous use of eight weeks. After the suggested period, you will find your lashes become thicker, darker, and longer. But to maintain the shape, you have to use the eyelash enhancer thrice a week. After sixteen weeks, you will achieve the maximum growth of the eyelashes.
There are some side effects associated with the use for this lash enhancer. The common ones include itching and burning. In some case, the product may modify the color of the iris. Somebody can have a better understanding when it is applied; this is the best way to get a concept of what it can do for you. has become a revolutionary product of the cosmetic industry.
Buy Careprost online to grow longer lashes naturally
Careprost is available at your local health store or online. It is cost-effective for all to purchase this amazing lash enhancer Want to make your lashes thicker and a little easier. If you desire to grow long eyelashes without any complication, buy the product today.
You can buy Careprost online from www.alldaychemist.com at an affordable rate. You can also get coupons for the special discount offer to save some extra pounds.
So if long dark and thick eyelashes are what you crave for, Careprost is right here to improve the appearance of your eyelashes. This product is made with an effective ingredient that promotes eyelash growth within a few weeks of application. It will continue to have long-lasting effects after you have achieved the desired results.