Some minor cuts and scrapes are part of our life and we do not visit a doctor every time to treat them. The homemade remedies to heal such cuts and scrapes are good to take care of your skin. You can make antiseptic turmeric cream to heal minor injury marks happened to your body.
Turmeric as an effective antiseptic product:
Turmeric is a rhizomatous herbaceous perennial plant that has been long used in several homemade medicines to treat various small internal and external diseases. Its polyphenolic compound curcumin has been subjected to a number of antimicrobial investigations. This natural item is extensively used to heal cuts and scrapes quickly and it shows minimal or no side effects as such. It's commonly used as a coloring flavoring agent in many Asian subcontinent countries.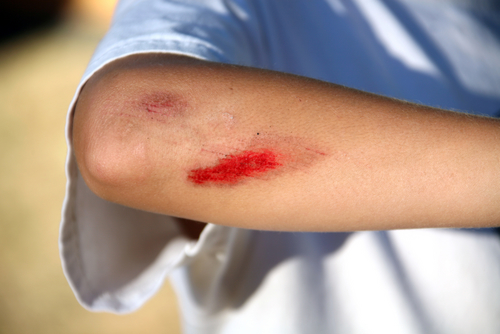 Also Read: Know Your Depression Medications?
The antimicrobial properties of turmeric work against different fungi, bacteria, viruses, and parasites. It is a promising element that can enhance the inhibitory effect of existing antimicrobial agents through synergism.
Antiseptic cream made of turmeric:
Turmeric is one of the multi-purpose products and its application as an antiseptic cream is very popular. The disinfecting properties present in turmeric make it an ideal product for the scrapes infection treatment as well as minor cuts, open wounds, grazes and other minor skin conditions. One can prepare this antiseptic cream comfortably at home. Some other natural ingredients with disinfecting properties can also be added to the turmeric solution.
Commonly used antiseptic creams:
There is a range of antiseptic creams that we commonly use to keep the skin clean and free from potentially infectious microorganisms. Such creams work to heal cuts fast and are used as first aid for scrapes infection treatment. A turmeric cream is also recommended for acne removal. You can use homemade antiseptic turmeric creams for these purposes.
Apart from turmeric, some other active ingredients like petroleum, aloe vera, almond, natural zinc, sandal powder, Kapoor, boric acid etc. works well to heal cuts and scrapes quickly. By using the antiseptic creams with these natural ingredients, you will not have to worry about the infections from minor cuts and wounds.
Turmeric antiseptic cream for clear skin:
The application of turmeric antiseptic cream is not limited to heal cuts and scrapes fast, it can be used throughout the year and on every type of skin complexion. One can use it in the summer to get rid of dry skin, in the winter season to keep skin soft and use it as a sunscreen to avoid tanning.
Turmeric has plenty of vitamin A that can repair tissue. Its vitamin E content works as a cosmetic antioxidant and can reduce skin inflammation, while vitamin C available in turmeric can help you protect from tissue damage.
How to make turmeric antiseptic cream at home:
Those who want to make turmeric antiseptic cream at home should get to know the appropriate recipe recommended for scabies. Some other key ingredients that you will need for preparing a good turmeric cream include ground turmeric, neem oil, coconut oil, fresh lemon juice, and tea tree oil. You can use a mixture of turmeric powder and lemon juice to scrapes infection treatment and minor burns or heal cuts fast. This homemade turmeric antiseptic cream can be stored at room temperature for about 15-20 days.
Also Read: Yoga Can Help in Psoriatic Arthritis Pain
Apart from healing cuts and wounds, you can use homemade turmeric cream for the beauty purposes. You can apply it under the eyes to get rid of dark circles and on the face to keep skin soft and glowing.  Turmeric powder and turmeric paste creams are used 2-3 times a week for the best results. The anti-inflammatory and antibacterial properties of the turmeric help to prevent acne breakout on the skin. Moreover, it can be used to avoid wrinkles on the skin. Turmeric is also helpful for whitening the teeth and it saves you from hazardous chemicals that damage your teeth.