Excess oil on the skin is often a cause of acne. Many people wonder how to treat oily skin. Heredity plays an important role in the development of oily skin. Some other contributing factors include changes in hormonal activity, stress and erratic lifestyle.
On the brighter side, the signs of aging do not generally show fast in an oily skin, but it does require more attention. Although the oil on the skin offers protection and helps fight signs of aging, many people are bothered by excess oil on their face. It is not just teenagers who have this skin issue, an oily skin can affect people of all ages and can lead to pimples, acne and blemishes.
Treatment of oily skin:
Here are some tips:
Cleaning – The oilier your skin, the dirtier it feels and looks. To help prevent this, it is essential to clean the skin by washing it with a good quality cleanser at least twice a day.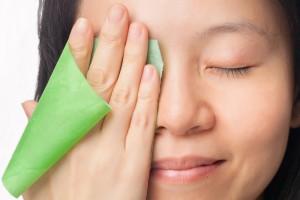 Most skin experts opine that cleansing the skin is the best way to get rid of excess oil. However, it is important to use a gentle cleanser rather than a harsh one. You must know that most soaps that are available in the market are alkaline in nature and is not good for the skin.
While washing the face, it is a good idea to use lukewarm water and not hot, water as the latter can further irritate the skin. After cleansing the skin, you can apply a toner. Place a few drops of the toner with a cotton pad and gently dab it on the oily parts to help get rid of the excess oil.
Also Read:Top 5 Skin Care Mistakes To Be Avoided
You may think that the more you wash your face the greater are the chances of oil reduction. However, this is not the case. Excessive washing can irritate the skin and worsen acne symptoms if any.
Avoid moisturizers – It is best for people with oily skin to avoid heavy moisturisers. However, it is important to apply a sunscreen before you head out doors. Check the label to check if it is meant for oily skin. Keep in mind that oily skin can also get dehydrated. It is therefore best to use a light, oil-free moisturiser to keep the skin healthy and glowing.
Don't touch your face – Keep your hands off your face all through the day. Touching your face may make your face more dirty and oily.
Keep your hair off your face – If you are facing issues with your skin, it is important to keep your hair away from your face.
Scrub your face – Scrub your face lightly to remove excess oil from the surface. You can apply a mask after that to reduce the oiliness.
Use blotting papers – This is a quick solution to get rid of the excess oil. However, this treatment works best when paired with a cleansing regime. Take care that you do not wipe your face with the blotting paper as this will spread the dirt and lead to further irritation. Instead, you can just press the paper on your skin and hold it there for a few seconds to help soak up excess oil.
Also Read:Do's and Don'ts For Oily Skin
Apply masks – Masks help to keep out the oil & dirt and keep the pores clean. However, these products can also cause the skin to become dry. Therefore, you should just use it once a week for the best results.
Stay away from heavy cosmetics – The products can clog the skin pores, which will trap dirt and oil in the skin and worsen the symptoms of acne.
Use Aloe Vera – Dab Aloe Vera all over your face to help it soak the oil and clear the pores. Apply the gel on your face at least two to three times a day and leave it on to dry.
Apply yogurt – Yogurt helps to exfoliate the skin, open pores and absorb the excess oil. Take some yogurt and spread it all over your face. Leave it on your face for at least 15 minutes before rinsing it off with cold water. Do it once a day.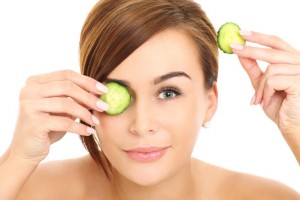 Use cucumbers – Cucumbers are an important ingredient during spa and facial treatments due to their soothing properties. They come loaded with minerals and vitamins that help remove excess oil and fight redness and swelling. Cut a few slices of cucumber and rub them over your face. Leave it on overnight and rinse off with water in the morning. Do it daily for best results.
If you have been thinking how to cure oily skin, it is a good idea to follow these above mentioned steps regularly for the best results. In most cases, it is possible to treat oily skin at home. However, it is best to consult a doctor if your skin does not respond to the home treatments.