For a majority of women, the time of menstruation is also the time of acne, which is frustrating for many women. Thus, one has to face two problems at the same time.
Menstruation acne can also be called as hormonal acne that occurs during the monthly cycle only. However, these types of acne may also develop during pregnancy.  Along with acne breakout, your monthly period also brings gifts such as fatigue, bloating, and even the occasional breakout. Acne may be visible before 7 to 8 days at the onset of the monthly cycle. Such acne subsides as soon as menstruation starts.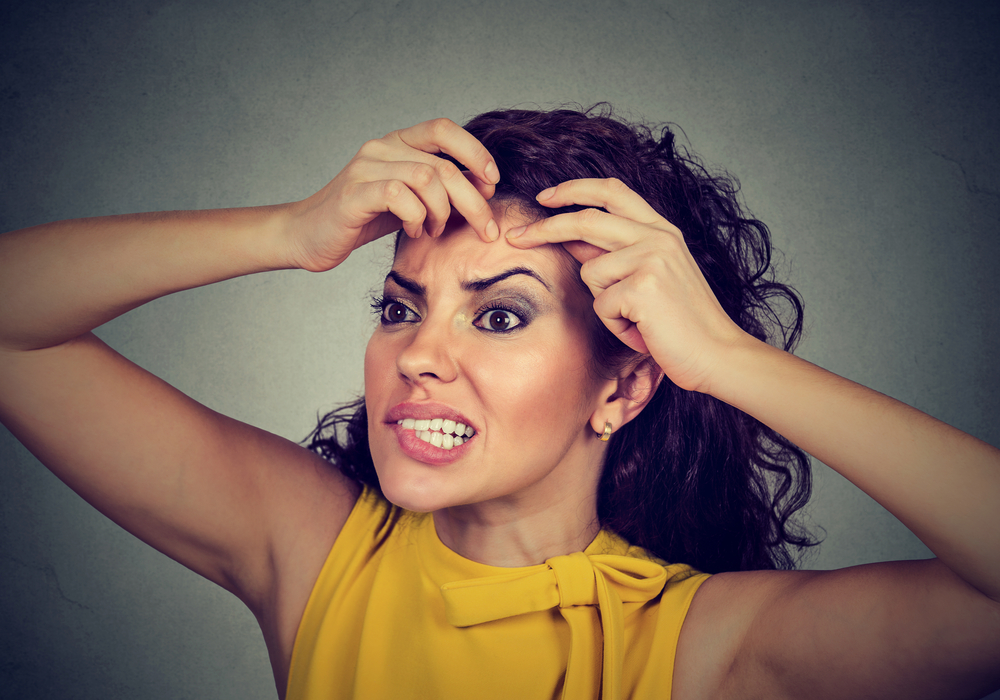 Preventing menstruation Acne
Treat and prevent menstruation in women with some effective ways. There are some things that you might do:
Be sure to clean your hands and face. Prefer washing off at regular intervals to prevent deposition of any impurities which ultimately cause clogging of pores. The clogged pores may cause acne breakouts.
Use a good quality skin moisturizerto keep your skin well nourished and smooth.
Prevent your skin from getting too much dry as this can also cause acne. Clean your skin with a mild cleanser on a regular basis for a better skin health.
Along with skin care, take proper care of what you are eating during the periodic cycle. Add more protein enriched food items as well as soy products in your diet. Eat foods that contain omega such as fish and flax seeds.
Avoid taking stress during periods, try to reduce the level of stress which is considered as one of the major causes of acne during menstruation.
Yoga and meditation are the best ways to get rid of stress and anxiety. Yoga allows your body to feel free and improve skin health. Your skin tends to feel better with the regular sessions of yoga and meditation.
Increase water intake during menstruation because water is helpful in flushing out the toxins and keep your skin clean from inside.
One can also try taking multivitamin supplements to repair your skin cells, which might be damaged. Make sure that you take multivitamin supplements only with after the advice of a healthcare specialist.
If you smoke, then avoid smoking while you are on periods. Smoking might lead to acne flares.
Have a lot of vitamin A, C, and E during your monthly cycle. Vitamin A contains retinoid which is extremely beneficial for preventing hormonal acne. It is also composed of beta-carotene, which is a compound considered for preventing acne including bacteria from occurring. Vitamin C is helpful in removing the skin impurities and keeps your skin clean. While Vitamin E helps in the regulating retinol levels and clarify your skin.
Natural ways to treat menstruation Acne
Along with the tips mentioned above, there are some natural remedies that every woman can follow to get rid of acne and pimples during menstruation:
Keep your skin pores clean- To prevent clogging and make your skin pores clean, take a bowl and add castor oil, olive oil, rose essential oil in an equal amount that is one teaspoon. Mix all these oils and apply on your pimples before you go to sleep. You need to gently massage it with your fingers to allow the goodness of oils to penetrate deep into the skin. Then take a cotton cloth dipped in warm water, squeeze the cloth and apply it on the affected skin. Leave for ten minutes on your face and then take it off. It is a natural cleansing method for treating acne.
Remove dead skin cells- To remove damaged skin cells, use a natural facial exfoliant by making a paste of baking soda and water. Mix them well to make a fine paste. Apply the pack on wet face, massage gently and wash it off after a few minutes.
Tighten your skin- During the periodic cycle, many women have a common complaint that their skin becomes saggy and dull. Here is all natural home remedy that not only prevents acne but also keeps your skin tight. Mix lemon juice and pure tree oil and spray the mixture at least thrice a day on your face. It is a natural antimicrobial skin toner for the young and glowing skin.
Also Read: 101 guides for best care of your skin type