Come summer, every American starts worrying about his look and having the perfect tan. Americans wish for that amazing natural tan look, no matter the season. A perfect tan is one which gives your skin that dazzling, rusty yet attractive brown tone. Kate Hudson, Jennifer Lopez and Kim Kardashian are some Hollywood celebrities who have lovely tan skin and people wish to take some tips from them. A person can choose to have outdoor tanning or indoor tanning. Getting the right sun exposure gives you the perfect tan.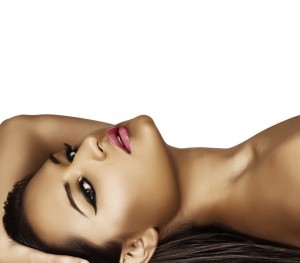 How much Sun exposure is healthy?
Sun exposure gives off ultra violet rays that penetrate the skin. Tanning starts the moment you step out of your home. When UV rays enters, DNA starts breaking down in the body. To protect the body from getting further damaged, melanin is produced. A darker skin tone or tan suggest that there is more melanin in body. Someone who is used to sun exposure can stand for a longer time period without any sunburn. Enough melanin is needed in order to get tanned skin in a few hours. He could do it with regular sun exposure for short durations. The body will be able to produce melanin in a week that could result in the right tan shade.
Related: 20 Secrets To A Naturally Glowing Skin
Apart from sun exposure, there are some tips and techniques that should be considered:
Use of sunscreen – Use of sunscreen on the body is always essential before sun exposure. It does not hinder the darkening of skin process, rather protects the skin from harmful UV rays. One should not forget that our skin gets renewed every ten days. Tanning lotion should be applied on the skin after a time interval of 2 hours.
Exfoliate – One should exfoliate regularly and gently. It helps in preventing the formation of dead skin by blocking out sun rays. Without exfoliation, it will result in uneven tan i.e. you cannot get a perfect tan. If someone is really dark then try to scrub a little light so that all colour does not peel off.
Moisturizer – Regular moisturizing makes the skin much softer. The softer the skin, the better it gets tanned. Before sunbathing, get your body moisturised a night before. Try to drink lots of water that keeps the skin hydrated while tanning. So moisturise your skin before and after sunbathing.
Expose every part – What looks odd is when the skin tone is not the same on all parts of your body. Try to keep your arms and stomach exposed so the skin color is consistent. In this way, all parts of the body will be exposed under the sun. Do not try to sleep on one side and avoid changing sleep positions in every 10 to15 minutes.
Eye protection – Eyes are a sensitive part of the body. Always try to protect eyes by wearing eye goggles or closing them as they can get easily burned.
Consult with a doctor – One should take advise from doctors before they go for sunbathing. According to experts, ideal time is between 10:25am to 2:45pm. Do not try to spend extra time under the sun because that will not make skin more tanned but will result in sunburn.
After Showers – It is ideal to have a refreshing bath or shower after a tanning session. Remove unnecessary lotion, oils and sand from the body to get soft and silky skin. Any cooling cream can be preferred to avoid the risk of burning. Aloe vera, liposomial tyrosine complex, L-Tyrosine and copper are some tanning lotions that provides relief to the skin.
Related: Top 5 Skin Care Mistakes To Be Avoided
If you aren't comfortable with the traditional sun tanning techniques, you can use sunless tanning or self tanners. You can also use stainers based on dihydroxyacetone which are like dyes. Make up can also be used to create a tanned appearance. Self tanning lotions, gels and sprays are also available for the skin. One may go for tanning booths, that's are available in spas and salons.
Indoor tanning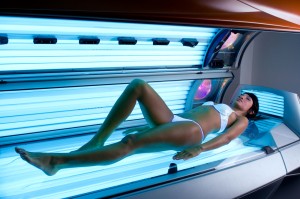 A tanning bed is a device that uses tanning lamps to provide ultra violet rays to cause a tan. Tanning beds energize and give artificial sun exposure in a easy and hassle-free fashion. Sometimes, outdoor tanning may prove out to be dangerous as it can cause sunburn. The body should get a healthy dose of vitamin D which is good for health only under sun exposure. In winters, it becomes difficult to get UV rays because of limited sunlight availability. Most Americans are comfortable with indoor tanning salons. The salons help in regulating the ideal amount of sunlight that is needed by the body. In outdoor tanning places, UV rays cannot be controlled, whereas in indoor tanning one can enhance exposure time. A tanning bed provides a higher concentration of UVA rays, i.e 12 times more than the sun. It aims at giving effective results in a short time period. In 2013, 13% adults, 43% college students and 10% teens used tanning beds according to report published on Jama dermatology. Hollywood tans, ultra tans, beach bum tanning and total tans are some tanning hotspots located in America at different locations. These hotspots offer professionally trained staff, custom airbrush tan, refined and neat beds. They offer best skin care products and tanning lotions at competitive prices. The results of an indoor tan gives a tanned body for a whole year.
Hazards – indoor and outdoor tanning
According to the study of oslo hospital in Norway, it has been noted that regular exposure to sunlight provides vitamin D which is good for health. However, both indoor and outdoor tanning processes are not safe. Sun lamps are used at indoor tanning hotspots that release ultra violet rays. Getting tanned skin means damaged skin and when the tan fades the damage still remains. Skin cancer can be caused by both indoor and outdoor tanning. A lot of allergies and skin problems like sunburn, skin ageing, photo-sensitivity, moles and melanoma are caused by sun exposure and indoor tanning. Two types of ultraviolet radiation penetrating the skin are UV-A and UV-B rays. UV-B rays are responsible for sunburn entering the top skin layers. UV-A rays penetrate deep into the skin layers, thus causing allergies and rashes. Both the rays can cause skin cancer omitted by sun as well as tanning salons.
Final words!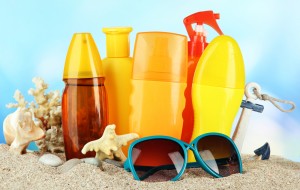 Tanning gives your skin that gorgeous glow. Whether you're enjoying a beach vacation or using a tanning booth, be sure to use tanning creams and sun tan lotions. Outdoor tanning provides natural vitamin D in the form of sunlight. Whereas an indoor tanning process is an artificial way to get UV rays. Both can cause skin damage, so one must consult a doctor before he opts for any of the procedures. Follow the best method to get the perfect tan this summer.
Know anyone who's coveting that gorgeous golden-hued sun tan? Share this blog with those tanning junkies. If you have any health-related queries on skin care, please use the comment boxes.
Also Read: Top 5 Superfoods For Flawless Skin
Get useful health tips and remedies regularly, on your Facebook feed.