What is the most striking part of your eye? No doubt, it's your Eye Lashes. No matter what is your eye colour or eye shape, long, thick and beautiful eyelashes make your eyes so very attractive. To give your eyelashes that dramatic look, you either use chemical products like mascara or fake eyelashes with glue. But you can't use these tricks for long as every product has some or the other side effects. Using small natural solutions is the safest way to grow long eyelashes.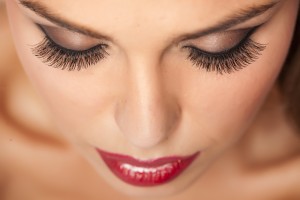 Eyelash care is as important as hair care.
As routine hair care makes them healthier, taking care of your eyelashes in natural way will show positive result over the course of time. It is easy and you don't even have to work so much as you do on your daily routine for your hair. Whenever, you try to embark on a lash-care routine, remember that the result will not be seen till the next succession of the eyelashes. So, you will have to wait for at least two months before you see any difference in your eye lashes.
Also Read:How to grow thicker eyebrows
Here are a few tricks to grow long and beautiful eyelashes naturally:
Castor oil
The strong follicle-simulating and nourishing castor oil can help you enjoy lustrous and voluminous lashes. It helps fight against micro-organism that hamper the growth of your natural eyelashes.
Use a brush or a cotton swab to apply castor oil on you lashes before going to bed. You can also add a few drops of vitamin E to castor oil before applying. Leave it over night and then rinse it off with warm water in the morning.
Alternatively mix together two tablespoon of castor oil and fresh aloevera gel. Apply it on your eyelashes using cotton. Leave it overnight and then rinse it off the next morning.
Follow either of the two natural remedies daily for two to three months.
Olive oil
Apply it to your eyelashes. This will enhance them to grow longer and stronger. This is one of the best natural remedy to get long and beautiful eyelashes.
Mix olive oil with castor oil together, now apply the resultant on your eye lashes this will promote the growth of eyelashes.
Aloe Vera
Aloe Vera is wonderful natural remedy that can help you get long and thick eyelashes. It contains several nutrient and vitamin that promote the growth of eyelashes. Moreover, it keeps your eyelashes moisturized.
Using a clean, old mascara wand, apply some aloe vera gel on your lashes before going to bed. Leave it on overnight, then rinse it off with warm water on the next morning.
Lemon peel
You can use lemon peel to add volume to your eyelashes. The peel are rich in vitamin C and B and, folic acid and other nutrient which helps in the growth of long eyelashes
Also Read:Remove dark circles under eyes
Put one table spoon of lemon peel in a container
Pour enough olive oil or castor oil into the container, so that the peel gets soaked
Allow it to sit for a couple of weeks
Apply the oil on your eyelashes before going to bed
Leave it over night and wash it off with warm water in the morning
Follow this natural remedy to get better result
Brush your eyelashes
Brushing your eyelashes can enhance the growth of lashes. It will help to get rid of dirt and dust particle to prevent clogged pores. It will also encourage blood circulation so that more nutrients reach the hair follicles.
Put few drop of vitamin E oil or petroleum jelly on soft-bristled eyelash brush or comb
Use the brush to apply the oil or jelly directly onto your lashes
Continue brushing gently using the upward strokes. Start from the bottom of the lashes then move upward to the tip.
Brush for about five minutes twice daily until you see the best result
Conclusion:
These natural remedies to get beautifully long eyelashes are easy to use and you will see the fabulous results in short period of time. Get natural beauty by using natural remedies for eyelash growth.