Many times you might have asked yourself a question that how can you lighten your skin tone and get a glowing complexion. There are many easy, natural skin lightening remedies that you can put to use.
Put aside the harsh chemical laden skin lightening creams and cosmetics, for a while. They are expensive, but they are a threat to the natural skin health also. It would not be a wise decision to keep on layering your face with such products that offer no results. Now, it is the time to think out of the box and bring the magic of natural skin whitening to get lighter skin tone with almost nil side effects.
Here are a few things you can do to lighten the skin tone:
1. Use Yogurt: Yogurt is one of the best natural bleaching agents available at home. It is loaded with several nutrients, and it is very good for the skin. It contains lactic acid that have skin lightening properties. You can apply yogurt directly on your skin, or you can mix it with fresh honey. Apply the mixture on your skin and gently rub it on your skin. Leave on the skin for a few minutes and then wash off with lukewarm water. Doing this daily for several weeks is going to bring a significant change in your complexion.
2. Reap the benefits of oranges: Oranges are the storehouse of Vitamin-C. You can use oranges to provide a most important nutrient to your skin, i.e. Vitamin C. Oranges have bleaching properties that lighten the skin tone of a person. You can directly rub the orange juice on your skin with a pinch of turmeric, then wash it off with lukewarm water for about 20-30 minutes or you can dry the orange peel in the sun and then grind it to make powder. Use the powder paste as a face mask and apply on the skin. Doing this once or twice a week is great to get a fairer complexion.
3. Honey: Honey is a natural product that can effectively bleach the skin and moisturise it also. It is known to remove the dryness, dullness and uneven skin tone. Honey can also fight acne scars and age spots to reveal spotless clean skin. To use honey, just apply it directly on your face or mix it with lemon juice and then apply it on the skin. Leave it on the skin for at least 10-15 minutes and then wash it off with warm water.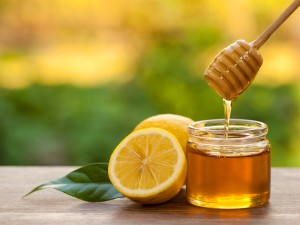 4. Lemon: Lemon has vitamin C in abundance and thus it also acts as a natural bleaching agent. The rich levels of vitamin C increase the cell repair and growth function of skin cells; hence, removes the dead skin. It is one of the commonly used natural skin lightening agents. You can rub a cut lemon on your skin directly or squeeze out the juice and apply on the skin. Lemon juice can also be mixed with honey, milk and gram flour to make a paste and apply on the skin. Leave the mixture or juice on the skin for at least 10-15 minutes and then wash off with lukewarm water.
5. Gram flour: It is one of the common things used by people to lighten the skin complexion. It contains various natural ingredients that are good for skin health. Gram flour is known to keep the skin very healthy by removing excess oil from the skin and restoring skin's natural moisture. To use gram flour make a paste of flour, water/rose water and lemon. Apply the paste on the face, hands and legs. Leave the paste on the skin and wash off after it dries up with luke warm water.
6. Potato: Potato has natural anti ageing and anti blemish activities. This humble underground stem vegetable is known to improve the complexion of skin by naturally lightening the skin tone, removing the blemishes and red marks. You can use potato slice or potato juice or paste. Apply it on the skin. Leave the potato on the skin for 2-25 minutes and then wash off with plain water.
7. Tomato juice facial mask: Just like potatoes, you can use the colourful red tomato pulp or paste on your skin to achieve that glowing and blemish free skin. Tomato is rich in anti-oxidants and thus is a very good skin care natural remedy. You can apply the tomato paste or juice on your skin with the help of a cotton ball. Leave the mixture of juice on the skin and then wash off when it dries. Many people are not born with a fair complexion, but it doesn't make them less beautiful. More important is the health of the skin that can be taken care of with a good diet and some skin care regimens. You can naturally lighten your skin colour.
Conclusion
Achieving a lighter and more radiant skin tone does not always necessitate the use of costly and sometimes hazardous chemical solutions. Nature provides a plethora of cures that are both easy to get and safe for your skin. You may use natural components to lighten your complexion and get healthier, blemish-free skin by eating yoghurt, oranges, honey, lemon, gramme flour, potato, and tomato.
Remember that genuine beauty is found in your skin's health and care, and with these natural treatments, you can confidently nourish your skin's natural brightness. So, give these cures a go if you want to get the transforming effects of natural skin lightening.
Also Read : Home remedies for clear skin