Acne scars can be frustrating and acne is a painful skin problem. All this make acne scar removal and acne treatment a necessity.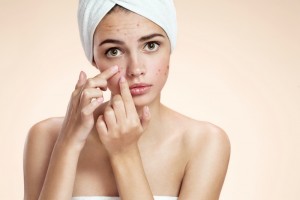 It is a myth that acne affects only teenagers. Men and women across all ages can develop acne at different periods of time in their life. Here are some proven home remedies for acne scars that are known to work wonders to treat the condition.
Lemon juice – Lemon juice acts as natural bleach and helps to rebuild collagen. Putting a few drops of the juice on the scars can help it to become lighter. It is one of the best skin lightening agents around and can work to make the scars less visible. It can also help to decrease the redness of the acne. However, avoid stepping out into the sun after you have applied lemon juice on the skin.
To apply, take a lemon and squeeze out the juice. Apply the juice directly on the affected areas with a cotton ball or your fingertips. Leave it for at least ten minutes before washing off with water. Do this at least once a day for three weeks to see your acne marks disappear completely.
If you have very sensitive skin, you can mix some rose water with lemon juice and apply on the marks.
You can also consider mixing some lemon juice with vitamin E oil and apply it on the scars. Vitamin E comprises plenty of antioxidants and helps enhance the skin texture.
Honey – Take some honey and apply it on the acne with your fingertips. Leave it overnight. Wash off next morning.
You can also mix honey with some oatmeal and apply the mixture on the pimples. Leave it on the face for at least 20 minutes before washing off with lukewarm water.
Aloe Vera – Aloe Vera is excellent for acne scar removal and to soothe swollen skin. It also works to regenerate damaged tissues that help to give a boost to the acne healing process.
To apply, take an Aloe Vera leaf and remove its outer green cover. There is a gel like substance beneath this cover. Take the gel and place it on the scars. Leave it for at least 30 minutes before washing off with water. It is best to apply Aloe Vera at least twice a day for a few weeks to see noticeable results. Your acne scars will disappear and your skin will also start glowing.
Olive oil – Olive oil is loaded with a host of vitamins, including vitamins A, C, D, E, B1 and B2. It comprises anti-inflammatory properties that can help to get rid of acne scars.
To apply, take some olive oil and massage your face gently with the same till you feel that all the oil has been absorbed in the skin. Take a clean towel and dip it in warm water. Wring the excess water out and put the towel on the face to get the steam. Wipe off the excess oil from the cloth. After a couple of minutes, wash your face with water.
Baking soda – Baking soda is one of the popular home remedies for acne scars. The coarse granules of baking soda work to get rid of the dead skin from your face.
To apply, make a paste of baking soda and water. Apply this paste on the face and gently massage it for a couple of minutes. Let the paste remain on the face and then wash off with warm water. Apply some moisturizer after that.
Raw potatoes – Raw potatoes contain skin lightening properties that work very well for acne scar removal.
To apply, take a potato and cut it in round slices. Take one slice and rub it all over your face in a circular motion. Keep doing this till you feel your skin has absorbed all the water from the potatoes. Repeat with another slice. Do it for at least 20 minutes. Let the juice remain on your face for some time before washing off with water. Do the process at least four times a week for a couple of months to see results.
Tomatoes – Take a couple of ripe tomatoes and cut it into small pieces. Mash the pieces to make a pulp. Apply the pulp on the face and leave it for at least 20 minutes. Wash off with water. Do this process every day for at least a couple of weeks to completely remove acne scar from your face.
Apart from these home remedies for acne scars, it is also important to treat your skin from inside. Make sure to have a healthy diet including plenty of fresh fruits and vegetables. Also, drink a lot of water to keep your system hydrated. A regular regime of exercises will help get rid of the toxins and keep your skin healthy and glowing.
All the above mentioned home remedies for acne scars to remove acne scars are excellent. However, some methods may suit your skin type more than others. Find out which remedy works for you and stick to it for the best results. No matter what acne scar removal remedies you use, remember to have patience too as you treat your pimples. If you follow your daily beauty routine religiously and with perseverance, you are bound to see results.
The following two tabs change content below.