Acne is a common skin disorder that can appear on the face, scalp, back and chest. There are many home remedies for acne that can help you deal with the problem.
Acne affects people of all age groups and it is one of the dreaded diseases of skin. It is only a myth that teenagers are the lone sufferers of the same. Many adults too suffer from pimples as a result of stress, sleep deprivation, erratic lifestyles and unhealthy eating habits.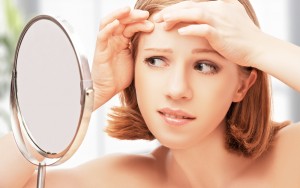 Here are some safe and effective home remedies for pimples:
Fullers earth
Apply fullers earth to help unclog the pores on the face and absorb excess oil. It is also an excellent way to enhance the complexion. Mix some fullers earth and water and apply it on the face. Wash off with water when the pack becomes dry. You can do this process at least once a week for best results.
Baking soda
An age old remedy, baking soda works as a gentle exfoliant to help remove dead skin from the face and unclog the pores. It also helps to restore the pH balance in the skin. It has several antiseptic and anti-inflammatory properties that make it an excellent remedy to keep the skin clear of acne.
Oatmeal
Oatmeal is one of the potent home remedies for acne. It helps to clean the skin pores and also absorbs excessive oil on the face, which is one of the main reasons for acne. To use, take some oatmeal and mix a teaspoon of lemon juice and honey into it. Rub the paste all over the face and let it stay for at least 30 minutes before washing off with lukewarm water. Do this at least once or twice a week for best results.
Also Read:Healthy Diet for dry skin prevention
Toothpaste
Your everyday toothpaste can also be an excellent way to get rid of acne. Just apply some toothpaste on the affected parts before going to bed and wash off the next morning. This is one of the easiest and most effective home remedies for acne.
Lemon juice
Lemon juice is acidic and it can be one of the very helpful home remedies for pimples. Lemon juice will help to clean the skin of the dirt that accumulates on the skin. You can use the juice on your skin every day, but if it causes your skin to become dry, then you can use it once in two or three days for best results. You can also make a mixture of rose water and lemon juice and use the solution on the affected areas for best results.
Lemon juice is an excellent skin lightener, disinfectant and an exfoliant. It can help to decrease the appearance of scars and also prevent the formation of new pimples. Just dab some lemon juice on the face with a cotton ball and then rinse off with water. It is one of the best home remedies for pimples.
Aloe Vera gel
The herb is one of the best home remedies for acne. The anti-inflammatory properties of Aloe Vera gel can work wonders to help treat acne. It can treat the inflammation and also work to heal the acne scars. You can just apply Aloe Vera naturally or buy it from the market. It is best to apply Aloe Vera at least twice a day to see noticeable results.
Tea tree oil
Tea tree oil has plenty of antiseptic properties and helps to keep the skin free of dirt and infections. Apply a drop of the oil on the affected parts at least three times a day. This will help kill any bacteria that are causing the acne.
Orange peel
Take some orange peels and let it dry. Grind the dried peels into a powder and mix with some water to form a paste. Apply this paste on the affected areas and leave it on for at least 15 minutes. Wash your face with warm water.
Chamomile
Chamomile helps to get rid of the inflammation caused by acne. Dab some cooled chamomile tea on your face after cleaning it. You will see noticeable improvement within just a few days.
Also Read:Various health benefits Turmeric
Green tea
Green tea is loaded with antioxidant and antimicrobial compounds that can work very well to help treat acne. Make a cup of green tea and cool it. You can use it on the affected parts to help treat the acne.
Witch hazel
Witch hazel can work as an excellent astringent. It has naturally dried and can work well to help get rid of blemishes. For best results, take some witch hazel and dab it on your face every morning and night for few days.
Apple cider vinegar
Apple cider vinegar comprises lactic acid and malic acid that can help to treat acne and reduce scar marks. Mix some apple cider vinegar with water and dab it on the skin with a cotton ball.
You can follow these safe and effective home remedies for acne to take care of the condition.