Wrinkles and fine lines under the eyes can spoil the entire beauty of the face. Wrinkles happen as a part of the natural aging process. Home remedies for wrinkles under eyes can effectively work to remove the fine lines.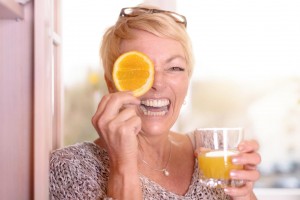 It is when the elastin and collagen present in the connective tissue of the skin break down. Premature or excess wrinkles can also be caused by factors like too much sun exposure, smoking, loss of Vitamin E, use of some drugs, stress, weight loss, and genetic factors.
Many women spend long hours in the salons trying out expensive methods to get rid of those wrinkles. However, the good news is that the wrinkles can be treated with some effective home remedies in a much lesser time than what you would spend in a salon. Here are some quick home remedies for wrinkles under eyes to help you. These home tips work wonders to lessen the fine lines under the eyes.
Also Read: Osteoporosis and the ways to deal with it 
Nutritious diet – One of the main reasons of eye wrinkles is the lack of collagen. Consume plenty of fruits, vegetables, and other mineral-rich foods to enhance the growth of collagen, which gives a firm and youthful appearance to your face.
Adequate sleep – To treat the wrinkles under the eyes, it is important to sleep well every night. Make sure to get at least 7-8 hours of sleep for the health of your skin and overall wellbeing.
Exposure to the sun – Take care to shelter your eyes from the direct rays of the sun. Prolonged exposure can speed up the aging process and make your skin appear dry and wrinkled. Make sure to wear shades when you are outdoors.
Water – One of the effective home remedies for wrinkles under eyes is to splash cold water on the eyes every morning as soon as you wake up. Also, drink eight to ten glasses of water every day to keep the skin hydrated.
Oils – Some oils such as coconut oil, castor oil, rapeseed oil and Vitamin E oil are excellent to moisture and nourish the skin. Apply any one of the oils on the affected parts at night and wash off next morning. Do this every day for at least a few weeks to see noticeable results. Regularly massaging the oils will help moisturize, repair and regenerate skin cells. The oil goes deep into the skin and offers long-lasting protection.
Cucumber – Using cucumber is an excellent way to take care of your under eye health. It is one of the best natural remedies for wrinkles under eyes. Apply the juice of cucumber under your eyes or simply place some sliced cucumber pieces on your eyes and wash off after 15 minutes. The lines under your eyes will vanish in no time.
Pineapple – The juice of pineapple contains an active enzyme referred to as bromelain. It is an anti inflammatory agent that helps to treat wrinkles. It also has astringent qualities and helps to exfoliate the skin.
Also Read: Health benefits of wheat grass juice
Fenugreek – Fenugreek seeds, leaves or oil are excellent to treat different skin issues including wrinkles under the eyes. It contains minerals and Vitamins that are absorbed in the body and helps to treat the fine lines when used regularly. Apply on the affected parts and leave over night. Wash off the following morning with lukewarm water.
Aloe Vera – Aloe vera contains malic acid that helps to decrease wrinkles by improving the elasticity of the skin. Cut an aloe vera and apply the gel on your skin. Leave it there for 15 to 20 minutes and wash off with water.
There are certain skincare basics too that can be followed to treat wrinkles. Avoid using soap in those areas or any strong chemicals. Also never use powders in those areas. Using the above mentioned home remedies for wrinkles under eyes can help treat wrinkles and get rid of them to a large extent.