To date, numerous opportunities are present for eyelash care. These strategies start with a quick result and end with a permanent solution. Lash-enhancing solutions are incredibly popular; they provide desired permanent results. Buy Careprost online to achieve long eyelashes. The eye care preparation causes your natural eyelashes to grow longer and fuller.
Know More About Careprost & Bimatoprost
Bimatoprost
Bimatoprost ophthalmic solution is an eye drop medication used to lower intraocular pressure in patients with open-angle glaucoma and ocular hypertension and cosmetically to treat eyelash hypotrichosis. It is a prostaglandin alpha analogue and has received approval from the United States Food and Drug Administration (FDA) as a treatment to lower intraocular pressure (IOP). Evidence suggests that topical bimatoprost Growth of the eyelashes is a well-documented side effect of bimatoprost ophthalmic solution during the treatment of glaucoma. Later, the FDA approved ophthalmic bimatoprost to treat eyelash hypotrichosis. Due to the effects of longer, darker, and thicker eyelashes, bimatoprost formulation is also often purchased as an ophthalmic applicator product over the counter (OTC) for cosmetic purposes. Generic bimatoprost became available in later years. The ophthalmic preparation is available as both topical 0.03% concentrations in the United States. When used to lower IOP, once a day, dosing bimatoprost may be used alone or concomitantly with another known as Timolol. Once daily, a bimatoprost ophthalmic solution of 0.03% applied to the upper eyelashes has been studied extensively to enhance eyelash growth with a favorablee safety profile and tolerability.
Careprost
Careprost eye drop is of the popular brand names of bimatoprost. It is an eyelash growth product containing Bimatoprost ophthalmic solution 0.03%. Both Careprost and bimatoprost and Careprost are the same. Whether using Careprost or a generic bimatoprost version, both have similar effects on growing eyelashes. Some people using the glaucoma product were surprised to find a significant growth in eyelash length and thickness. The discovery of bimatoprost ophthalmic solution as an eyelash-enhancing product led to the formation of bimatoprost-containing products like Careprost that are specifically used to treat sparse eyelashes. With this eyelash growth solution, it is not easy for women to say goodbye to those temporary options like mascara and falsies. You do not need to invest heavily in products when you have just a few bucks to achieve those magical eyes. Let us get acquainted with this lash-lengthening preparation's benefits and other features.
Reduction Of Intraocular Pressure
It has been well demonstrated that bimatoprost and several prostaglandin analogues sustainably and effectively reduce IOP and are used as a standard first-line treatment for primary open-angle glaucoma. This is achieved primarily through enhancing aqueous outflow through the uveoscleral pathway. Lowering IOP in patients with glaucoma and ocular hypertension and glaucoma may reduce the risk of disease progression. Several studies have demonstrated that bimatoprost might have a mechanism and encourage trabecular outflow in addition to uveoscleral outflow.
Enhancement Of Eyelash Growth
The ability of bimatoprost to promote the growth and thickening of lashes was initially noted during clinical trials to determine the potential to reduce intraocular pressure. In a series of clinical trials with a two-week course of bimatoprost, a more significant proportion of follicles were in the hair cycle's anagen phase and decreased portion in the telogen phase, suggesting an increased transition from telogen to anagen. Therefore, the study hypothesized that this increased proportion of follicles in the anagen (growth) phase allows for the observable enhanced growth of lashes with bimatoprost.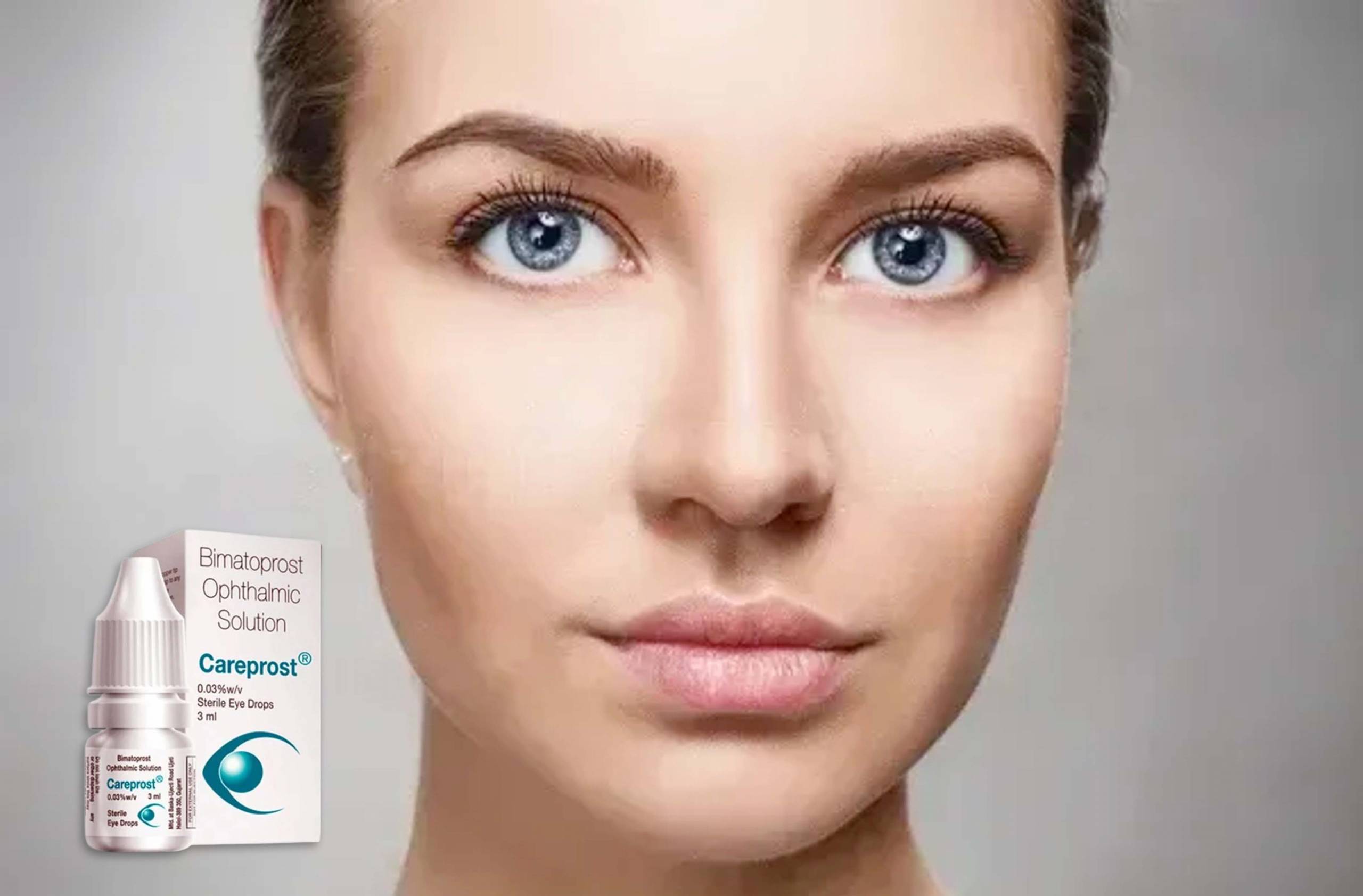 Administration
The two administration methods of bimatoprost ophthalmic solution vary according to the intended effects.
1. Applying Bimatoprost Ophthalmic Solution For Open-Angle Glaucoma
Bimatoprost ophthalmic solution or Careprost may be applied directly to the ocular surface as eye drops. The usual dose for both products is one drop every evening, although it may vary depending on the doctor's dosing. The patient should wait at least five minutes between administering Careprost/bimatoprost with other ophthalmic drugs. With this ophthalmic solution, the reduction of IOP should begin after four hours, and the best effect will be achieved at twelve hours but will maintain the reduced IOP through a 24-hour period.
2. Applying Careprost Bimatoprost For Hypotrichosis
Bimatoprost/Careprost is most used and associated with increased growth and prominence of lashes with once-a-day use. The product is currently available commercially as a bottled solution and included applicators. Before applying the solution, patients should remove contact lenses. Every evening, a drop of the solution is applied to the base of the upper eyelid margin. Evidence suggests that eye care products should be applied for at least sixteen weeks for maximum eyelash growth.
Side Effects
Numerous trials have demonstrated high levels of safety and tolerance of bimatoprost when applied to the ocular surface or eyelids. Other than the transient eyelash prominence, the most common side effects include eye pruritus, conjunctiva hyperemia, eye pruritus, pigmentation of eyelid margins, burning irritation, dry eye syndrome, eye pain, dry eye syndrome, and foreign body sensations. Careprost/bimatoprost applied as an eye drop has also been associated with the alteration of iris pigmentation.
Conclusion
Bimatoprost is an eye care liquid preparation introduced into ophthalmic practice decades ago. Evidence suggests the ophthalmic solution 0.03% is safe and effective in lowering IOP over the long term in patients with glaucoma and ocular hypertension. Careprost eye drops 3ml have bimatoprost as their main ingredient, which is believed to perform dual functions. It is the same medications that reduce IOP and promote lash growth.
Careprost bimatoprost is the alternative to many lash-enhancing formulas available in the market. Patients see tremendous success with Careprost and bimatoprost solutions while encouraging eyelash growth. It is always a good idea to consult an ophthalmologist before using an ophthalmic solution.
The following two tabs change content below.