The popularity of online pharmacies is increasing day by day due to many reasons. Best online pharmacies provide safe home delivery, accessibility to a wide range of medicines, reduction in cost, time, and convenience. In this article, you will get to know how do pharmacies sell prescription drugs?
Online pharmacies are becoming increasingly common almost everywhere. Consumers are replacing a trip to the local drug store with a simple click. They are particularly convenient for geriatric patients or patients suffering from chronic conditions who frequently require a refill of their medications. The online chemist sells a wide range of products, including prescription medicines, over-the-counter products, herbal products, and beauty products. Thousands of websites sell medicines and health care products. Many of these are safe to buy medicinal products and genuinely offer convenience and privacy. They use safety measures to protect customers' account details and other information. Therefore, consumers can use these services with the same confidence they have in their corner pharmacies.
Online Pharmacies: A Better Opportunity
For some people, buying medicines online offers advantages such as:
Greater availability of medicinal products, especially for people confined to their homes or for those living far from the pharmacy
Better convenience and access to a wide range of medicines and health care products
The ease of being able to compare many websites to find the best price
Accessibility to written information related to the medicine or the health care product
The ability to order your essentials from the comfort of your place
Providing advice about symptoms
Information or advice in general
It must be important to consult a health care professional before buying medicines online. Online chemists are utilizing different forms of technology to enhance their site functionality. Online medicine shopping also claims to save consumers money, which is true in some cases.
Factors affecting the purchase of Medicines Online
It is always important to be careful when purchasing medicines online. Some websites sell medicinal products that are not legal. This means they haven't been checked for the safety and effectiveness of medicines. Other drug stores may not follow the established rules made to protect consumers' privacy. Purchasing medicines or health care essentials from websites like this may put your health at risk. You may end up receiving medicines that aren't safe to take and cause serious health complications. You may get medicine that may be contaminated, fake, or outdated. Buying pharmaceutical products from a rogue pharmacy can be dangerous or even life-threatening. Be sure to receive medicines that are clinically appropriate for you. Your online pharmacy should have the system in place to carry out appropriate identity checks.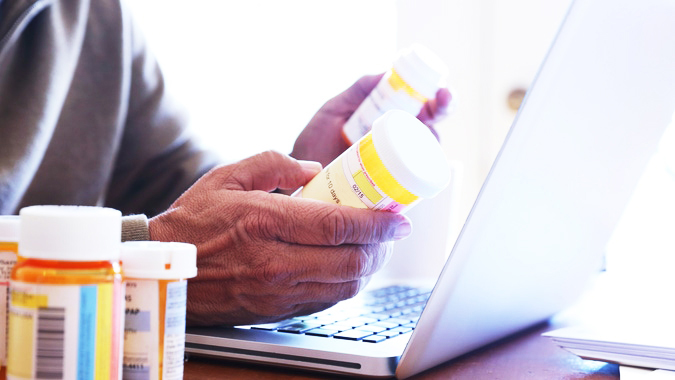 How Online Pharmacies Work?
Online pharmacy is one of the fastest-growing industries in the US. Nowadays, people have started purchasing medicines online through a few clicks rather than taking a trip to the local drugstore. These days many online pharmacies make possible efforts to attract customers and differentiate their pharmacies from their competition. Most internet vendors sell everything from prescription medicines, over counter products, to vitamins and other health care products. Alldaychemist is the perfect pharmacy app for buying medicines and health care products online. The online store delivers authentic medicines at home. It offers a plethora of services to help you to get your health care essential without any hurdle. Online pharmacy experiences a profound medical application and facilities like quick delivery, greater availability, accessibility, convenience, and low prices. The online chemist delivers not only prescription medication and herbal products but also beauty and cosmetic products that reach out to a wide arena of customers with different types of requirements. Alldaychemist.com believes in swift action and does like their customers to wait. Therefore, a team of experts works behind the platform that plays an important role in developing the entire health care website. The online drugstore makes every possible effort to satisfy their customers, and with the dynamic customer service team, it doesn't take much time to adapt to the clients' needs. How do online pharmacies sell prescription drugs? Well! in general, an online drugstore works this way:
Consumers open an account with the pharmacy and submit their credit or insurance information.
After creating an account, you can choose your health acre essential from the wide range of products.
You can also read about your medicine; you may get to know the usage information, precautions, and side effects of the medicine.
Medicines are usually delivered quickly within 7 to 15 business days. For an extra fee, many online sources will deliver even faster.
Sites typically have a way for you to answer your query, either through mail or a toll-free number.
Features that make Alldaychemist the best in the online industry:
24X7 customer service
100% customer satisfaction
Complete back-end support
Best quality at reasonable cost
The Bottom Line
Sales of medicines and health care products online have grown rapidly. Online pharmacies provide benefits to consumers when compared with local drugstores where patients' safety may be compromised. These are the internet vendors that currently operate as marketplaces and services to patients as a platform for ordering medicines from sellers. The legal outlets sell everything from medicines to cosmetic products and safeguard all traditional procedures related to ordered pharmaceutical products and others. Purchasing medicines online may pose a risk to consumers because they are unsure if the internet vendor is offering drugs of the same quality a retail pharmacy offers. There is also a possibility that the pharmaceutical products online may be counterfeit, unauthentic, or contain the wrong ingredients.