Dark elbows and knees are caused due to the constant friction of the skin of these areas and build up of the dead skin. It is not that easy to scrub off dead skin, but there are few home remedies to get rid of the dark elbows and knees.
If you are ashamed of having dark elbows and knees but like to wear sleeveless dresses and short skirts, then you can follow simple natural home remedies on how to lighten the dark elbows and knees.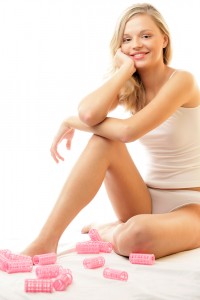 Never neglect your darkened knees and elbows. If you are fond short dresses then you have to look neat and tidy for the purpose. The skin present on elbows, knees and knuckles are thicker than other areas and are prone to get hard and loose moisture more easily than other areas. Hence, you need to take extra care of these areas and to do this you can follow the below-given home remedies:
1. Lemon juice:
People usually do not remember that lemon juice is a good natural bleaching agent and can make the skin lighter over the time with regular use. Other citrus fruits like oranges all do the same. For getting rid of dark skin of elbows and knees, you can rub a half cut lemon on these areas before bedtime and wash off in the morning with lukewarm water.
Also Read:Home remedies for facial hair
2. Coconut oil:
Coconut oil has a very good property of lightening the skin due to the vitamin E present in the oil. It is good to improve the complexion and moisturise the skin simultaneously. You can use the oil after each shower to apply on your elbows and knees. Messaging gently with this oil will prevent dryness of the skin and lighten the dark elbows and knees.
3. Aloe vera:
It is natural skin lightener; hence, it is also helpful to maintain the even skin tone. You can extract the gel from the fresh leaf of aloe vera. Apply the gel to the affected area and let it sit for some time. Wash of after 15-20 minutes. Repeat it at least twice a week.
4. Yogurt and almond powder:
Yogurt is a good antibacterial and bleaching agent. Almond powder has its properties that make it such a useful product. Mix equal quantities of yogurt and almond powder to make a paste and then apply on knees and elbows. Wash for about few hours before washing it off.
5. Baking soda:
It is gentle cleanser and skin lightener. It not only helps to get rid of dark elbows, but it also exfoliates the skin to leave it soft and supple. You can apply it by making a paste of baking soda with milk. After applying the paste on the affected area, leave it for 2-3 minutes. A wash of after that. Repeated application every alternate day can prove helpful.
6. Turmeric, honey and milk:
The three products together bring a new glow to the skin. Turmeric is antiseptic, milk a natural bleaching agent and honey is a good moisturiser. Mix all these three together to form a smooth paste and apply it on the dark areas. Leave the mixture for at least 20 minutes and wash off after rubbing it all over the area.
Also Read:Getting longer eyelashes is not difficult
7. Olive oil and sugar:
Sugar is a good exfoliator and olive oil will keep the skin moisture intact. Mix the two together to form a thick paste and apply on the knees, knuckles and elbow. Rub it on the affected area just like a scrub. Wash off with water.
8. Gram flour and lemon:
Gram flour is a good skin lightener and cleanser. It acts as a mild exfoliator also. Mixing gram flour with lemon makes a perfect bleaching and lightening agent. Apply the mixture on your elbows, knees and knuckles in a circular motion. Leave the mixture to dry. Wash off once it is dried.
9. Natural oils:
Applying any natural oils like olive oil, sesame oil or coconut oil on the skin daily is a good option to reduce the skin dryness and darkness. You can apply it daily after shower, and it will help you to retain the moisture lost during the bath.
10. Pumice stone:
Rubbing the dark elbows and knees softly with a pumice stone helps to remove the dead cells from the skin and make it clean. Dead skin removal can help to lighten the dark elbows and knees. It is best to do the exfoliation with a pumice stone while bathing as the skin is softer during a bath.
If you feel embarrassed with the black skin around the knees and elbows then you can try the above mentioned home skin treatment remedies to get beautiful and even complexion in those areas of thick skin.