How does one get glowing, beautiful skin? What are the foods for perfect skin? In this blog, we provide you the answers regarding healthy foods for perfect skin. In this fast-paced life, women don't have time for their health and skin. Being a high-achiever and chasing after your desired goals is a sign of a hardworking and dedicated person, but this has proven to be a costly affair. Why? In the rush to reach their targeted goals, women rely on handy foods even though they know that these will harm their body and skin. To get fair complexion and shiny skin, women choose cosmetic products, which can be expensive and some times quite useless.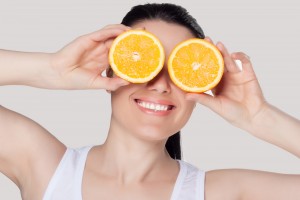 It's time to say goodbye to expensive and ineffective beauty products and start eating homemade and healthy foods for perfect skin. Homemade foods for perfect skin are cheaper than switching to useless pricey products. This blog lists the foods to eat everyday for healthy skin.
What are the foods for perfect skin?
Silky and smooth skin is every woman's desire. And getting it isn't as tough as it seems to be. You just need to modify your lifestyle to get perfect and shiny skin. Some of the foods for perfect skin are as follows:
Almonds
You can get flawless skin by snacking on almonds. They are stuffed with vitamin E, a potent sun blocker. Researchers have stated that almonds protect the skin from the environmental damage and also prevent skin irritations and flare-ups.
Red bell peppers
It's a perfect, low-calorie snack that can be enjoyed either cooked or raw. A single red bell pepper contains more than 100 percent of the daily vitamin C needs, dietary fiber, and vitamin B6. Red bell pepper is rich in carotenoids that help in the prevention of wrinkles. It also increases the blood circulation to the skin and also helps the skin look more youthful and energized. The presence of carotenoids also helps you in fighting acne.
Dark chocolate
Dark chocolate is one of those foods that you can eat everyday for good skin. Cocoa hydrates the skin by making it firmer and supple because of the high levels of flavonols, a potent type of antioxidant. To get the most of it, eat chocolate which has at least 70 percent cocoa.
Make a smoothie
Pick raspberry, kale, apple, and goji berries to make a super packed smoothie. This smoothie is good for flawless skin because kale contains high levels of vitamin K, which is an essential vitamin to suppress inflammation. Tangy and sweet goji berries are a rich source of antioxidants, which help in warding off the signs of aging of the skin.
Also Read:How to get rid of acne and restore your natural beauty
Make an orange fennel salad
Orange fennel salad is one of those foods that help you in getting perfect skin. To make the salad, top it with fennel, onion, oranges and walnuts. An antioxidant found in fennel is quercetin that helps people suffering from psoriasis (an inflammatory skin condition). Quercetin also diminishes fine lines and wrinkles, and provides a perfect glow to the skin.
Salmon
If you love fish, then salmon is one of the best foods for perfect skin, as it helps fight stress, anxiety, and depression. It also provides daily vitamin D needs, which means your heart, bones, colon and brain will be healthy. In addition, salmon is rich in omega-3 fatty acids that are healthy for the skin. It is embedded with high nutritional properties. To best avail the benefits of eating salmon, bake it instead of frying.
Dark Berries
Berries consist of skin clearing antioxidants. They are packed with fiber too. You can have berries as a snack which will stave off hunger pangs and also regulate insulin production.
Sweet potatoes
Sweet potatoes are one of those foods that you can eat everyday for good skin. They are rich in vitamin C and also help in clearing wrinkles. Vitamin C is necessary for collagen production, and the more collagen a person has, the less creased his/her skin looks. Researchers have conducted a study that claims people who have consumed about four milligrams of Vitamin C daily for three years have decreased the appearance of wrinkles by 11 percent.
Also Read: Excessive sweating- Here's a guide to the best skin care tips to make yourself gorgeous forever!
Conclusion
You may have tried different types of face masks, creams, cleansers, and serums to get that dream skin, but all these have been in vain. So, opt for healthy drinks and foods for perfect skin as discussed above.