Do you have chapped lips? Do you always have your lip balm with you at all times? If yes, then you probably have lip balm addiction. Well, we might hear someone or the other sharing their experiences of addiction. It can be games, junk food, clothing or accessories, but you might get surprised that people do get addicted to lip balm as well.
Lip balm addicts use lip balm and then develop sensitivity to the components present in it. This sensitivity causes a reaction in the lips that add to a chapped feeling. That is why they feel like using some more lip balm. When people continue to use a lip balm thinking that their lips will get relief, the lip sensitivity frequently enhances and makes the situation much worse. In turn, they get lip balm addiction and find it difficult to leave the place without their lip balm.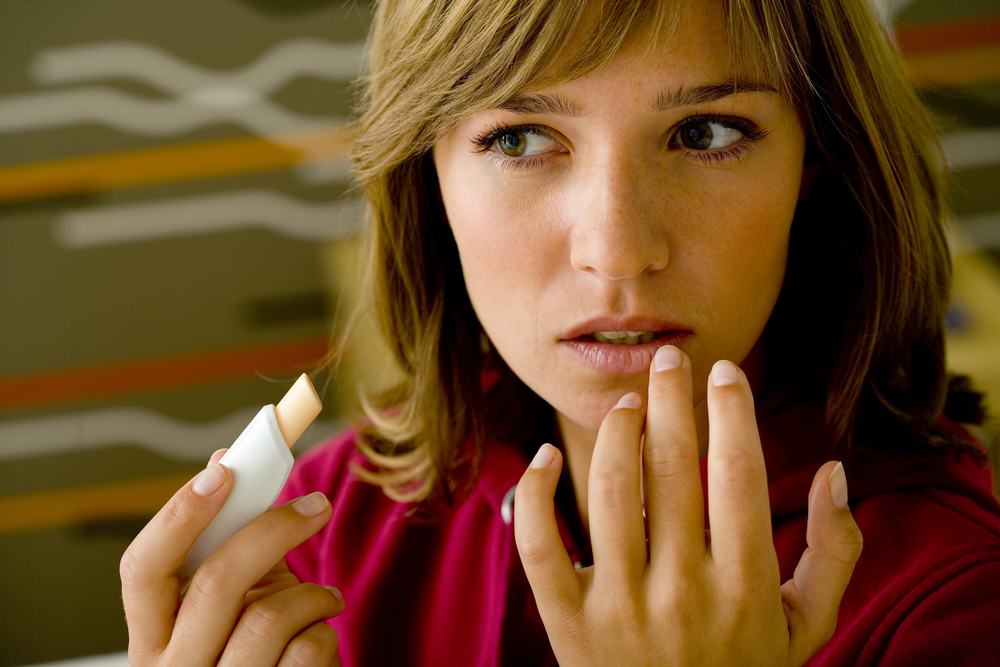 Also Read: Don't Let Ticks come Close to you, Prevent Lyme Disease
Lip balm ingredients and side effects
Excessive use of lip balm does not cause any contagious illness. It's been known that the worst side-effect can be an increase in the lip chapping. There are some ingredients in the lip balm that cause the tendency to use the product more frequently by prolonging the chapped effects. If you have a lip balm addiction then, you should avoid the products containing phenol, menthol or salicylic acid. Its side- effects can cause tingling feeling, but the real sensation is due to the protective layers of dead skin on the lips peeling off. Also removing the layers of the skin leaves the lips more susceptible to those environmental factors that cause chapping. For those with lip balm addiction, should make use of the other chapped lips remedies that are safe to use. Given below are the different chapped lips remedies that are safer and provide better relief.
Also Read: Home Remedies for Glowing Skin
Chapped lips remedy
• Sugar- Sugar is an excellent chapped lip remedy for those with lip balm addiction. You just need to mix two tablespoons of sugar with one teaspoon of honey. Gently rub the mixture onto the lips to loosen the dead skin cells. Wash off after a few minutes with lukewarm water for best results.
• Honey- Honey is another great moisturizer that has its healing and antibacterial properties for treating chapped lips. Use pure organic honey on the chapped lips for few times a day.
• Coconut oil- You can also use olive oil or coconut oil on the lips as it helps keep the lips moist. Coconut oil is a well- known moisturizer and the most effective remedy to heal the chapped lips.
• Castor oil- You can also try using castor oil on your chapped lips. Take one teaspoon of glycerine, one teaspoon of castor oil and a few drops of lemon juice. Mix the combination well and then apply to the lips before going to bed. Next morning, wash it off with the lukewarm water.
• Milk cream- Due to the high- fat content of the milk cream it works as a great natural lip moisturizer. Just apply the fresh milk cream on the chapped lips and leave it for 5-10 minutes. Wash the lips with a cotton ball dipped in lukewarm water. Try to repeat the procedure each day for useful results.
Best ways to overcome chapped lips
The lip balm addiction recovery is only possible when you find some real ways to combat chapped lips. Given below are the best ways you could try to have smooth lips, without using lip balm.
• Do not lick lips- The human saliva dries out the lips and leaves it exposed to the dry air. Break the habit of licking lips every time they are chapped.
• Drink more water- Try to consume plenty of water in the form of juice, or fresh fruits and vegetables.
• Consume greens- To prevent lips from dryness, you must consume loads of dark green leaves. The best examples include broccoli, lettuce, spinach and dandelion that are rich in vitamin A and promote cell turnover and keep skin supple.
• Get sunlight- The best-chapped lips remedy is to get vitamin D from the sunlight. Sunlight heals dry skin, eczema and chapped lips.
• Exfoliate in the shower- Just like our skin requires exfoliation, similarly lips need it too. Only take a soft wash cloth and gently buff all the dry skin. Exfoliation tends to give an excellent improvement to the lips and keep chapped lips at the bay.
Also Read: How To Get The Perfect Skin Tan!
Conclusion!
Lip balm addiction is something that can easily catch young girls and boys. But one should adopt healthy ways to keep chapped lips at bay as lip balm often contains harmful ingredients in them. Keep your lips supple, soft and smooth with only natural home remedies and say bye to your colored lip gloss forever.