Who doesn't want glowing and flawless skin? But, if wishes were horses… Increasing work pressure, tension, eating disorders, sleepless nights, and pollution have take a toll on quality of hair. These factors cause skin problems like acne, dullness, blackheads, dead skin patches, and more, which leave us wondering if we can ever hope to have good skin.
Skin care is important as it is the most sensitive part of the human body. To protect skin from losing its natural moisture and glow, people buy beauty products to make their skin look beautiful. But there are various home remedies for glowing skin that can do wonders. How to get glowing skin is no longer a question that becomes difficult to answer Given here are various tips for clear skin that can improve the way your skin looks. So, don't waste your precious time in the salon, just follow the tips mentioned here.
For starters, figure out your skin type. Skin types include dry, oily, combination, normal, and sensitive skin. A lot of beauty products, face packs, and others are available on the market for all skin types. Continue reading for tips for clear skin: 
Home remedies for glowing skin:
What you eat shows on the outside. Healthy food, definitely helps you get glowing skin. There are many natural options that have been used for ages to provide care for the skin.
Also read: Your Guide to a Clear Skin
Healthy eating and drinking: • Eating fresh fruits and vegetables – Fresh fruits and vegetables are a good way to promote health, as these are rich in fiber and vitamins. To get good skin you should add fish, walnuts, spinach, and grains to your diet as these are beneficial for healthy skin condition.
• Drink up – Drink good amounts of water, six to eight glasses a day as fluids help in flushing out the toxins from the body and improve the overall tone of the skin.
You won't have to go far in search of remedies or spend a fortune on getting healthy skin. In fact in your kitchen are all the natural ingredients and cost-effective methods for you get your skin looking good.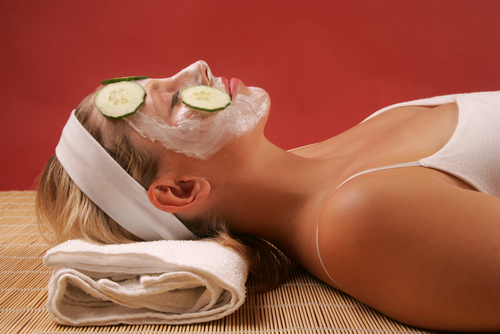 • Honey & lemon– The mixture of honey and lemon works as a natural bleacher which improves skin tone. Try a mixture of honey and lemon on your skin. Take a tablespoon each of both and mix them properly. Wet your face then apply the mixture on it and leave it for 15-20 minutes. Wash your face with cold water and see the result.
• Yogurt- Yogurt acts as a facemask and a very economcial beauty tip for the face, as it contains lactic acid that helps exfoliate the skin and absorb excess oil from the face. Apply a tablespoon of plain yogurt on your face and leave it on for 15 minutes. Rinse your face with cool water. Then take two tablespoons of yogurt along with a tablespoon of honey. Mix yogurt and honey well with each other and apply on the skin. After leaving it on for 15 minutes, wash off the applied natural facemask with water. Doing this will help give you smoother skin texture.
• Fruit pack- You can make a fruit pack by making use of some fruits. Take the pulp of an avocado, papaya, and cucumber and mix them well. Now, add two tablespoons of cream to the mixture to make a smooth paste and apply the paste on the face. Leave the mixture on your face for 15 to 20 minutes. Wash the face with lukewarm water and see the difference it makes to your skin.
Also read: How To Get The Perfect Skin Tan!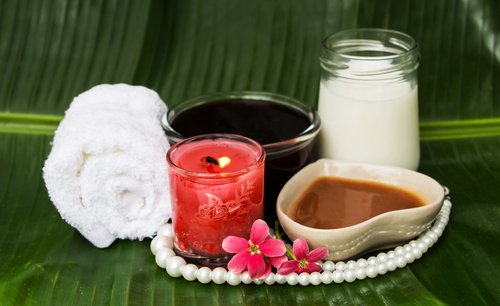 • Potato– Potato acts as a natural bleacher which rejuvenates the skin. You just need to take a slice of unpeeled potato soaked in water for a few minutes and rub it on your face for the desired results.
• Banana facemask– It is among the best options for exfoliating skin for better looking skin. The banana facemask can be made quickly at home by mixing half a mashed banana in one egg white with a tablespoon of curd. Apply on the face for fifteen minutes. Rinse your face with the water and see the difference.
• Cleanser– You can make a cleanser by taking a small quantity of milk. Add a pinch of salt along with two teaspoonful of lime juice in it. Your cleanser is ready for application which will clean the pores of your skin.
• Carrots– Make a paste of raw carrots and apply them on to the face for about an hour. After applying the paste for the recommended time, wash it thoroughly with water.
• Orange juice– You can also apply orange juice on your face using a cotton swab.
Other natural ways to keep the skin healthy and glowing:
Workout: Workout is a part of home remedy for glowing skin. Physical activity throughtout year us beneficial to your skin condition. Cardio or routine exercises help your skin as blood flow get stimulates and flushes out the toxins from the body.
Manage stress: Stress is one of the biggest problems people face and is enough to make you sick, as uncontrolled stress triggers acne breakouts and other skin problems. In order to get healthy skin, try to manage stress by doing facial exercises or joining yoga classes. Performing yoga helps you in mental relaxation and also in managing stress.
 Also read: 20 Secrets To A Naturally Glowing Skin