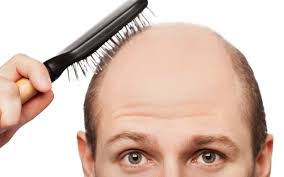 Many of us do not enjoy a head full of thick, lush hair for long. You choose to conceal your hair loss with hairstyles and hair products that make your hair look thicker, but instead of losing more of your hair with harmful chemicals that you think makes your hair look good and thick, try to save what you already have.
Apart from undergoing a hair transplant, there are many more ways you can stop your hair from thinning. For instance, there are certain hair treatments that can slow down or completely stop hair thinning. There are chances that you might grow back the hair you thought you would never see again. Mentioned below are a few things that work and don't in hair fall treatments.
Minoxidil is the only medication approved by the FDA to treat hair loss. This medication does not save a receding hairline. But it does stimulate hair growth.
This hair stimulating medication, Minoxidil is available as Rogaine, Theroxidil, or in generic form. You can buy it in liquid or foam and in two strengths: 2% and 5%.
Effectiveness of this medication: Minoxidil is effective for 2 out of 3 men. If you are under 40 and have just started losing hair, then Minoxidil will be most effective for you.
How to use it: Use Minoxidil twice a day when your hair is dry. You must apply it on the area of your scalp where your hair has started to recede. You will see the changes in four months or so. Until then, be patient.
What it doesn't do: You must know that Minoxidil does not cure baldness. Once you stop its usage, your hair will start to fall again. Maybe even faster than before.
Side effects of Minoxidil: Though Minoxidil helps stop your receding hairline, you may still experience redness, itching, dryness, flaking, or even scalp irritation.
Finasteride makes your body stop producing the hormone at the root of male pattern baldness and DHT (dihydrotestosterone). Finasteride is available under the brand name Propecia.
Effectiveness of this medication: Finasteride is very effective as it slows or stops hair loss. Nearly 90 % of men that used it have experienced finasteride's benefits. Also, almost two-thirds of these men regrow some hair after using this medication.
How to use it: This medication, Finasteride is to be consumed in pill form, once a day. However, your dermatologist may recommend you to use it along with minoxidil.
What it doesn't do: Once you stop using Finasteride, you may lose hair again.
Side effects of Finasteride: In some cases, this medication causes erectile dysfunction and other sexual side effects. These adverse effects would not show once you stop using finasteride. However, for some men, it takes longer than three months.
Biotin and Low Level Laser Therapy (LLLT)
Vitamin B content in Biotin is vital for your health. A person has biotin in their day-to-day diets in form of egg yolks, yeast, liver, and other food items. Less consumption of Biotin can cause hair loss.
However consuming a lot of it will probably not help you. No scientific study has shown biotin preventing hair loss.
You must have heard people speak about laser combs, brushes, hoods, and caps halting hair loss. This theory explains that when hair follicles absorb laser light at a certain level, it promotes hair growth. However, there is not enough evidence to prove that any of these devices restore hair or even prevent balding.
When do you need to see a doctor for hair loss?
When you suddenly start losing hair, be certain to consult a doctor. This problem may be a result of illness, medicine, or also your diet.
Now that you know all about both the positives and negatives, it should help you decide what you want to use to help you save your receding hairline.